Wet n' Wild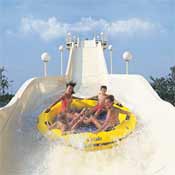 They don't call Florida the Sunshine State for nothing, here it gets hot, sometimes to hot to enjoy days out in the sun at a theme park. So the obvious choice for these hot days is to cool off, but where? Wet n' Wild has the solution for you; since it is so hot outside, the best way to soak up the sun and stay cool is to get in some water. Wet n' Wild is a park dedicated entirely to water, and fun ways to enjoy slipping, sliding and splashing in the Florida heat!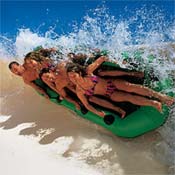 Wet n' Wild brings you a new way to enjoy your day and keep cool in the process. As one of the first water parks Wet n' Wild has been around for nearly thirty years, so when it comes to water filled fun, Wet n' Wild knows how to get in on the action! With a wide variety of water play-grounds the kids can enjoy the many obstacles and entertaining attractions. Wet n' Wild is home to many colorful and creative ways to splash and slide around the theme park. With many truly unique rides you can be enjoying your fun in the sun in a whole new way!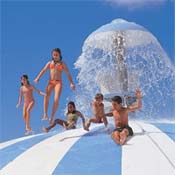 With rides like the; Mach 5, Der Stuka, Bomb Bay, Knee Ski and many, many more your sure to have fun! Each of these rides have their own unique twist, making them each an adventure in itself! The Mach 5 is a tower of twists and twirls as you take your raft to the top and choose from three different course, each with their own unique spiral downwards, time it right and you can race your friends! Der Stuka is a 250 foot nearly vertical drop, a massive slide that scares even the bravest! We could go on and on about the others, but why spoil the surprise!
Wet n' Wild is the perfect way to spend any day in Central Florida. On a hot or warm day this theme park is perfect for a fun time! With so many unique and entertaining rides this affordable theme park is a fun fill adventure for all!