Boggy Creek Airboat Rides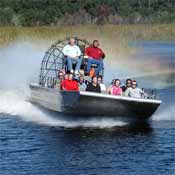 Imagine gliding through the wetlands viewing Florida's Native wildlife. Starting with a leisurely idle down our natural canal, looking for exotic birds, turtles and the Florida alligator. Despite the often advertised wildlife in Florida many tourists never get to see the amazing and large alligators. The reason you don't see many is they tend to keep to themselves living deep in the weeds in the most rural areas of the lake. The fact is they are mostly scared of humans, but with the Boggy Creek Airboat Tours you get to see many, the tour guides no all their hiding places!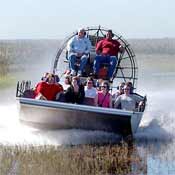 Imagine flying like the wind into the swamps experiencing the awesome feel of the airboat ride traveling in speeds up to 45 miles per hour. Imagine this unforgettable journey right here in the Orlando attraction area at Boggy Creek Airboat Rides because we are... "The Central Florida Everglades." An airboat is a flat bottomed rectangular shaped boat, with a massive fan on the back. Because there is no motor that goes in the water this boat can fly over and above weeds without concern for getting caught in and among the foliage!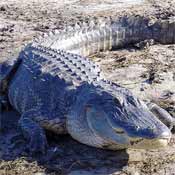 If you are looking for a real vacation pleasure, then Boggy Creek Airboat Rides is your Central Florida destination. We are one of the best attractions for visiting native wildlife in their natural habitats. You might even see a few surprises along the way. The tour guides know the entire lake like the back of their hand, this means that there's no stops or searches for what you are looking for, visiting an alligator nest or sun spot is what they do best, and all the guides know exactly where to find them!
We are nestled on East Lake Tohopekaliga where we bring Florida to you. Our tours are also great for those of you who enjoy bird watching. You can often see:
Bald Eagles

Herons

Osprey Sand

Hill Cranes
Plus you will get a chance to see many different endangered and threatened birds. You will love seeing all of this around our beautiful cypress trees.