Disney Quest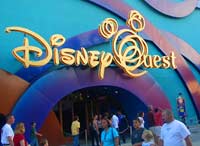 Disney quest is an indoor experience like none other! Step into a virtual world like none other in this massive four story game room. Filled with cutting edge technology and fantastic game concepts you can get in on all the action of this entertaining experience! Located at Downtown Disney this great attraction is located in the center of all the action. From bumper cars to fighting off skeleton pirates this is the perfect solution to any hot day in Central Florida. Come enjoy the amazing experience at Walt Disney Worlds one and only Disney Quest!
When it comes to gaming you have come to the right place, Disney Quest has entire sections zoned specifically for action packed arcade games. After admission all these games are completely free for your use, get friends and enjoy tons of multiplayer games. With games like Nascar Racing, Dinosaur Hunters and even Roller Coaster digital rides you can experience all the fun and adventure of a full blown arcade in one single room! Once again everything is free once you pay for admission, so enjoying these fantastic arcade games and getting your money's worth is as easy as walking up to these machines!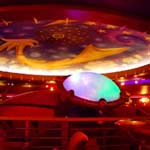 Get your fiends and family together and take to the high seas to become one of the most feared pirates. Journey around the cost in your own ship, that's right you have your own ship, equipped with cannons and a steering wheel. Choose your gunners and your captain and make key decisions as you venture around the ocean in search of treasure, with a full world of options you can go anywhere and everywhere on these seas and attack anything and everything that carries treasure.
Join Buzz Light Year in a galactic space mission as you venture out into the galaxy to ward off other space ships. Using asteroids as weapons you and your partner take hold of one of the many Bumper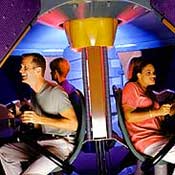 Carts in the ring. Choose a driver and a gunner and defend yourselves from other players, drive over asteroids and then load them into the cannon, fire on your enemies to make them spin out of control. The question is can you do all this while avoiding the attacks of others?
Create your own rollercoaster and ride it! Yes you heard right with today's modern technology and Disney's creative imagination you can now create your own rollercoaster and then ride it yourself! Take a friend with you and experience this amazing ride firsthand, inside the machine you will twist and spin in every direction, make your rollercoaster a wild ride or shoot for realism in this fun filled adventure!