Sea World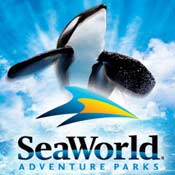 One of the most visited theme parks in Central Florida, Sea World has a reputable name across the globe as one of the most fun and exiting theme parks in the world. With it's unique theme and wild entertainment this theme park offers you a wide variety of entertainment and jaw-dropping demonstrations. Sea World's entertainment comes from the amazing animals that run the show, with years of training and relationships with trainers animals such as dolphins, killer whales and sea lions perform stunt after stunt right before your eyes. A question you might ask is how do these animals survive in captivity, the answer is simple; Sea World has made massive tanks and the appropriate adjustments to make these animals happy!
One the main attractions here at Sea World is the Shamu show, where massive killer whales perform stunts that you cant even imagine. Along with the professional trainers these whales flip and spin their ways out of the water, you can see through the side of the tank and watch them dive deep down and propel up-wards. One of the great crowd pleasers is when the trainer stands on the nose of the whale, and then dives deep into the pool, when the whale surfaces at incredible speeds it launches the trainer nearly thirty feet into the air! Few people get to see the tenderness of these animals, but here at Sea World you get up close encounters, and with the proper reservations you can join in a program called "Dine with Shamu," and actually eat amazing foods while the whales come within feet of you!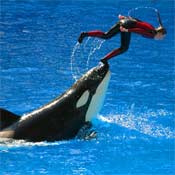 Among other shows you can see Clyde and Sea-more take Pirate Island, a comedic show where man and sea-lion participate in a funny show that results in some incredible stunts! Or venture in with the Dolphins and watch an acrobatic show full of colorful outfits and amazing stunts performed by dolphins and actors alike!
When many people think of theme parks their minds go immediately to rides, well don't be discouraged because Sea World has some of the wildest rides in Central Florida. A unique and exiting ride called Journey to Atlantis leads you into the very heart of the lost city, where you encounter a mischievous mermaid, who unfortunately does not want you to leave. Take a wild leap when you go on the Kraken, one of Sea Worlds Monster roller-coasters. This massive green coaster stands tall over the theme park and reaches speeds of nearly 75 miles per hour! In this wild and floorless roller-coaster you will go into the lair of this Kraken and emerge at incredible speeds to fly into more and more crazy stunts!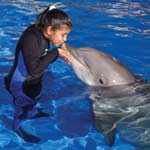 One of Sea Worlds newest and most anticipated rides is the Manta, a massive steel coaster that you can see from the entrance to the park. It's unique design allows you to sit down, and then your feet are raised up so that you are laying on your stomach, with hands and feed dangling you make your plunge! On this wild roller-coaster you just barely skim the water as you make twists and turns at incredible speeds!
Sea World is the perfect solution to any day, join in the fun at this unique and creative theme park. Enjoy the spectacular display of stunts and tricks by these exotic and rare animals!