Busch Gardens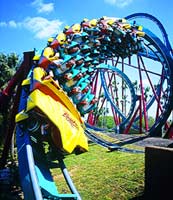 Busch Gardens Tampa Bay combines the thrills of a theme park with the wonders of a zoo. This unique park features more than 2,700 animals, five world-class coasters, and over 30 attractions. With such a large selection of attractions this theme park is a wild and fun adventure for the entire family! Based on a South-African theme this park houses a unique theme that brings you face to face with exotic and rare animals, some that few people around the world will ever see!
If you're interested animals, be sure to take the "Edge of Africa Tour"! You can walk through the very scenic habitats of monkeys, exotic birds, hippos and more. Learn everything that there is to know about these exotic creatures and their life habits, habitats, trainer to animal relationship and food preferences!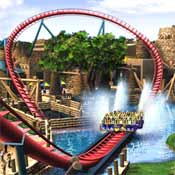 For those roller-coaster fans you have come to the right place, here at Busch Gardens you can find an abundance of wild and creative rides! Busch Gardens is most noted for it's large selection of roller-coasters, with over nine of these large and unique coasters every minute of your time at the park can be filled with roller-coaster fun. With both wooden and steel roller-coasters the park has embraced the draw to these magnificent and creative rides, each one housing its own special theme and style that makes each one an adventure in itself. With roller-coasters like the Montu, Katonga, Cheetah Chase, Kumba, Gwazi and Sheikra each inheriting the characteristics of a South-African animal you can enjoy every moment of your roller-coaster experience while at Busch Gardens! Enjoy the awesome and spectacular experience of the Gwazi, one of the worlds few wooden roller-coasters, riding side by side this roller-coaster is a full blown race to the finish. Or try some of the 90degree drops of the steel coasters, each with their own unique set of twists and turns that leaves you guessing every second of the way.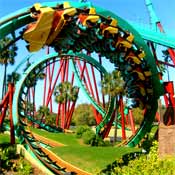 The large zoo style part of the amusement park is filled with over 2,700 animals, each with some relationship to South-Africa you can explore and observe these wild animals. Throughout the day you can fund park employees demonstrating the unique and interesting features and abilities of the rare and exotic animals. Some areas of the theme park allow you to interact with these creatures in fun filled ways.
Busch Gardens is the perfect way to spend any day in Central Florida. With such a large variety of exotic animals and an abundance of roller-coasters what is there to lose? Come join in the entertainment at one of Florida's most visited theme parks!