Discovery Cove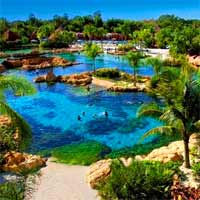 Welcome to Discovery Cove, where you can interact with marine life in a whole new way. After successful special classes at Sea World Orlando that allowed guests to swim with dolphins Sea World decided having an entire theme park dedicated to interacting with some of the worlds most exotic animals was the perfect way to bring guests a fun and entertaining experience! Now Discovery Cove is just as the name suggests, this cove is filled with the amazing and hidden species of wildlife seldom seen! Here at Discovery Cove you swim in a massive coral reef with park provided gear, you can observe and interact with hundreds of fish, dolphins, sharks, stingrays and even barracuda!
After special training and instructions you are equipped with snorkels and goggles and simply released into this massive tank. These amazing and colorful animals are now used to the presence of humans, and will come breathtakingly close to you as you swim, dive and float in this beautiful reef. Along the side of the pool is a large tank separated by a glass wall, behind this glass wall are barracuda, a large and semi-dangerous animal, but now from the safety of your pull you can see these amazing and powerful animals up close!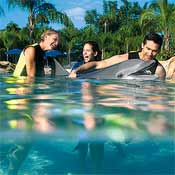 One of Discovery Cove's most popular even is swimming with the dolphins. These amazing and smart animals enjoy playing and swimming with people, and now's your chance to get in the tank with these fun and gentle animals! After a brief safety orientation you can swim and play with these animals in ways you never thought possible!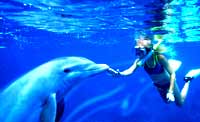 However, at Discovery Cove under the sea animals aren't the only thing you can interact with. With a large aviary you can participate in the day to day life of over 250 exotic and tropical birds. You can purchase bird food and feed these beautiful animals, how they react to you can only be determined by them! Landing on your head shoulders and arms these beautiful creatures will eat directly out of your hands! Running through the center of the theme park is the heated Tropical River, which passes by Discovery Coves beaches, waterfalls and even through the aviary! Inside this lazy river you can float around the theme park and see all the beautiful sites as you just relax!
Discovery Cover is the perfect way to spend any day! With the hot summer Florida sun you can swim in the massive lagoon with sea life, keeping you cool and entertained the entire time! Discovery Cove is the perfect way to just relax and enjoy the beautiful Sunshine States amazing whether!
To make reservations call: 407.396.4009 or Toll Free at: 800.544.7646