Animal Kingdom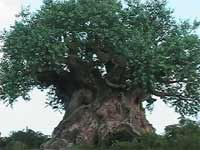 Take a ride on the wild side in this fun filled family adventure. The signature structure of Animal Kingdom is the large tree that stands several stories tall in the center of the park. This massive tree can be seen from nearly everywhere in the Walt Disney World Resort, at the base of the tree are several dominant animals carved into the trees bark. These animals represent the circle of life, and loom over the park; if you look closely you can see many Disney characters as well, most of them from the Lion King movies. The entire theme park is filled with an abundance of exotic animals, and is frequently visited by school groups. That is because the park is filled with educational value, every bit is fun and entertaining, however you will learn so many interesting facts about the exotic animals, that you wont be able to stop from telling friends.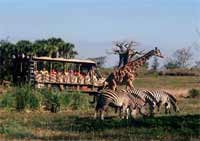 The entire theme park is designed around animal conservation, with this being said Disney has imported some of the most exotic animals in the world, and now you can see them! Scattered all through the park these exotic animals are seldom seen by people, most people will never get to see these animals in their life time! Reversing the name of the amusement park best describes it's main attraction, this is the Kingdom of the Animals!
Animal Kingdom is divided into seven separate zones, each holding their own unique set of animals, rides, experiences, shows and more! These Kingdoms are; the Oasis, Discovery Island, Camp Minnie-Mickey, Africa, Rafiki's Planet Watch, Asia and DinoLand U.S.A.
The Oasis

Located at the entrance to the park this area functions as a recreational area and hosts a variety of souvenir shops and animal exhibits. Every Disney theme park has one of these introduction areas, where parades and demonstrations can take place should the occasion or holiday arise. Often times in the Oasis you can find park employees walking some of the animals around, allowing you to get up close and personal encounters with these amazing animals.

Discovery Island

Located almost at the center of the Animal Kingdom theme park this zone is the median between all the other areas. If you are crossing over to another zone you will most likely pass through Discovery Island. The area is filled with animals in all shapes and sizes, that is because in this area of the park lies the massive Tree of Life, and you can stand at its basin. This is a perfect photo opportunity, standing under the tree you can see how massive the structure actually is. Located in this zone is the Tough to be a Bug! 4-D show, a fun adventure with the characters from It's a Bugs Life!

Camp Minnie-Mickey

This jungle camp is home to the adventurous Disney characters such as; Mickey Mouse, Minnie Mouse, Snoopy and more! One of Animal Kingdoms greatest shows resides in Camp Minnie-Mickey, the Festival of the Lion King show. The Festival of the Lion King is a live stage show that parodies the Lion King movie, except with real actors and acrobats, closely followed by special effects this show is a spectacle to behold!

Africa

Inside the East African village of Harambe you can find one Animal Kingdoms most popular attractions. Anyone who is visiting Animal Kingdom wants to see the most exotic of exotic animals, and now you can. With the Kilimanjaro Safaris jungle tour you can journey into East Africa and see animals in their natural habitats. Disney has place a lot of effort into recreating these animals natural living areas, and now you can take a tram ride through the rolling hills of a African safari, and see animals such as rhinos, giraffes, lions, hippos and more!

Rafiki's Planet Watch

The only way to access Rafiki's Planet Watch is to ride the Wildlife Express Train. The Wildlife Express Train takes you through the back of all the exhibits, this allows you to see exactly how the employees take care of their animals. Once you reach Rafiki's Planet Watch you enter a small building, inside is everything you need to know about the care of the animals. You can watch the animals get check-ups, observer their habits and learn an abundance of information about the animals and what it takes to keep them healthy and happy!

Asia

Welcome to Anandapur a fictional village in Asia. Here you can find a wide variety of birds, these colorful animals come in all sizes, big or small you can find them all at Animal Kingdom's Asia!. Here you can find one of Animal Kingdoms most popular rides, Expedition Everest. Journey into the snow covered mountain and search for a massive fabled creature on this rickety old track, will you make it out safely?

DinoLand U.S.A.

Here you can find a wide variety of reptilian animals, in all shapes and sizes; from alligators to tortoises, whatever it be you can find it here! Here you can find a large building that promotes the education of dinosaurs, with fun and interactive ways to learn about these extinct animals it is one of Animal Kingdoms most popular attractions. Inside you can play games and see dinosaur bones, you can even find out what kind of dinosaur you would be based on your mental comparisons! Here you can also find Finding Nemo - The Musical, a live stage show with all the fun and entertainment of the hit Pixar Movie!
If your interested in animals and looking for a fun way to spend your day then you have come to the right place! Come join the hundreds of animals at Animal Kingdom and enjoy the countless opportunities for entertainment!