Kennedy Space Center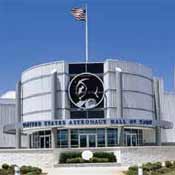 The Kennedy Space Center Visitor Complex provides an exhilarating and educational experience of the space program. From NASA's earliest manned missions to the crews of today's Space Shuttle, scores of Astronaut heroes have lived, trained and left their mark here at Kennedy Space Center. Now it's your turn to explore. This massive complex houses an abundance of equipment, memorabilia and even rocket shuttles! You can get up close encounters with articles and rockets that have actually been to space!
No where else in the world does anyone offer you such a great opportunity when it comes to their space programs. You can learn an abundance of material from trained NASA employees, or from the self guided tours. Right from the start you are thrown into a massive maze of rocket shuttles, from the unmanned space crafts to remakes, some of these are the real deal!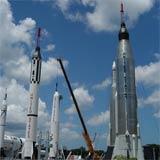 Here at Kennedy Space Center you can find an abundance of photo opportunities. With specific spots around the museum/amusement park you can take pictures in front of key items that helped advance us into space. Most of the articles of memorabilia found here at Kennedy Space Center is the original rockets and unmanned crafted that propelled us into space during the early days of space advancement. However, you can find a numerous amount of modern space equipment from actual missions!
In some areas of the theme park you can find actual space rocks, sand from the moon and other foreign objects. These amazing pieces have been brought back by astronauts that have been to the moon and back. Sometimes while at Kennedy Space Center you can find astronauts signing autographs, taking pictures and even wearing their old suits!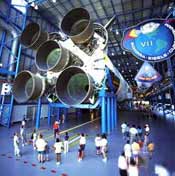 Kennedy Space Center also has a viewing platform, where you can see the launch pad from just over a mile away. Using provided binoculars you can get an up-close view of this massive launch pad. One of Kennedy Space Center's most prized possessions is the massive vehicle used to carry the rocket to the pad. This large flat platform stretches over two highways and balances the massive shuttles on top.
Kennedy Space Center is a unique and rare experience that you can get no where else but Central Florida! Get up close encounters, great photo opportunities, educational information and see sights few will ever see when you have a fun and entertaining visit to Kennedy Space Center Florida!