Aquatica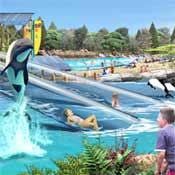 Florida is the Sunshine State, and with sunshine comes heat. Some days it is just to hot to enjoy the normal theme parks, and for some of those that live far north, it can be beneficial to have a plan for those hot and humid days. That is why Sea World has brought you the fun filled water park Aquatica. This southern Pacific themed oasis is the perfect way to cool off on a hot summer day.
This brand new park is home to a wide variety of unique and never before made rides... that is to say that you cant find the rides in this theme park anywhere else! Aquatica's icon is two clear water slides that ride side by side through a large dolphin tank. As you glide down this tube the dolphins, as naturally playful creatures, enjoy swimming along side of you at incredible speeds! Race your friends and the dolphins to the bottom and see who comes out the winner!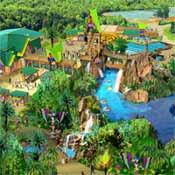 Aquatica is home to two massive wave pools, each with it's own unique set of wave styles. One of Aquatica's most prized possessions is it's 80,000 square foot white sandy beach, which wraps around the two wave pools. This means you can get all the enjoyment of relaxing on the beach while in the safety of a theme park, and to ensure that your kids are safe and you can relax, each wave pool has it's own set of lifeguards!
Aquatica is filled with great rides and attractions. Everyone knows that a water park isn't a water park unless it is equipped with an abundance of water slides, and Aquatica has just that! With a wide variety of special slides and tube slides you can be soaring down these winding steams of entertainment in no time. Each slide has it's own unique set of twists turns and some even have surprises! Race your friends or take a leisurely spin down some of these mind numbing, pulse pound and heart pumping slides!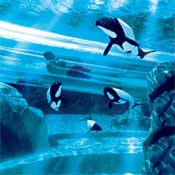 One of Aquatica's unique and special zones is it's kids area. A massive water playground, with slides and colorful play areas, shallow swimming pools and water fountains. Constantly monitored to make sure all the children are safe this is the perfect way for you're kids to enjoy their day while you relax!
Aquatica is the perfect solution for any hot day in Central Florida. With the perfect amount of entertainment and the water to keep you cool, Aquatica is a fun filled adventure fo the entire family!