Typhoon Lagoon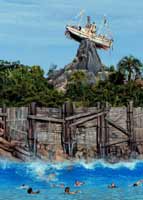 Florida is the Sunshine State, and in the sunshine it gets hot. Disney has taken measures to ensure that when these hot days roll around (Which could very well be every day) there is a way to cool off. One of these ways is Typhoon Lagoon, a massive water park in the Walt Disney World Resort. During the hot days in Florida it can be very beneficial to have a water park to cool off in. Spend a day soaking up the sun in a theme park and then cool off the next day at Typhoon Lagoon!
After a massive tsunami passed over Typhoon Lagoon the area became a constant flow of water falls and large waves. Typhoon Lagoon's signature is the large boat perched on top of a hill just above the wave pool. Around the park you can find scenery of wreckage as the area's previous structures were washed away. Now the entire place is dripping with water and water slides run down many hillsides!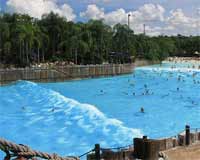 Typhoon Lagoon is home to a massive wave pool located at the very center of the park. At the far end of the pool is a large mountain, with Typhoon Lagoon's signature boat on top. The boats horn blows every hour, and the blast can be heard through out the park. At the edge of the wave pool is a large sandy beach, and a cove hidden behind an island for the children to play.
No water park is complete without several water slides, and Typhoon Lagoon has just that! With a wide variety of water slides, each with their own unique twists and turns, you can be flying down the side of rocky cliffs encased in a speeding tube in no time! The nice thing about water slides is that you can send someone down every thirty seconds, and unlike theme park attractions they never break down. This means that it takes no time to be speeding down along side your friends in the twisting and turning adventures!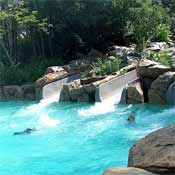 One of Typhoon Lagoons most popular attractions is the coral reef dive. The theme park supplies you with a set of snorkel and goggles and gives you a reef orientation on how to swim with all the fish in the pool, even sharks! Then you are released to spend some time with these beautiful animals, it's a fun and unique experience few with have the privilege of experiencing!
Typhoon Lagoon is the perfect way to spend a hot day in the Florida sun. Enjoy the relaxation of the beach with all the entertainment of a theme park. Cool off and chill in this fun filled family adventure!