City Walk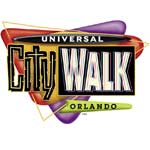 City Walk is one of Central Florida's largest attractions, this area is the designated party life at night and hang out during the day! Inside you can find a wide variety of clubs and restaurants, making this a hot spot for fun and entertainment! Serving as a gateway between two of Orlando's most visited theme parks this inner median holds all the fun and adventure you could ask for! Spend a day at one of these great theme parks and top the night off by enjoying the night life at City Walk. Or when midday comes around enjoy some of the great restaurants here and get you lunch or dinner served by some of central Florida's greatest dining options!

---
Restaurants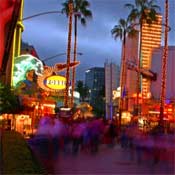 NBA City Restaurant: An entire two story restaurant dedicated to one of the worlds greatest sports Basketball! With game day foods such as burgers, hotdogs, fries, steaks and more you can get all the fun and entertainment of the game in a single outing! With a large screen and televisions playing the big game you can catch your favorite teams as they face off! With two stories of memorabilia and game day history you can see some of your teams actual uniforms equipment and an abundance of pictures!
Emeril's Restaurant: Emeril Lagasse is a culinary star with his own hit television show. His recipe book has only the best of the best in gourmet food and now he's asking you to sample it! You can fill up on incredible food at this sophisticated and professional restaurant. With friendly waiters and quick service this restaurant is a fan favorite for culinary delights!
NASCAR Sports Grille: Buckle up your in for a ride, this entire restaurant is dedicated to the fantastic sport of NASCAR. With service as fast as the race cars themselves you can enjoy traditional American food at a great price! With constant sports coverage on large screens and walls that surround you in sports memorabilia you will be completely immersed in the sport! With two stories full of great fun you can watch the big race or witness major sport events from the balcony or floor of this amazingly fun restaurant!
Hard Rock Cafe: Don't be alarmed the worlds largest and greatest Hard Rock Cafe can be found at City Walk here at the Universal Resort in Central Florida! Inside you can enjoy fantastic music and a fun care free atmosphere! Here you can purchase traditional American foods such as burgers, hotdogs, French-fries, pizza and more! The entire Hard Rock Cafe is clothed in rock and roll memorabilia that will make and music lover drool! Rock out to professional bands in this fun and entertaining atmosphere that you can only get at City Walk's Hard Rock Cafe!
Bubba Gump Shrimp Co.: Do you remember that Academy Award Winning Movie that left you quoting "Life is like a box of chocolates?" Well now a little of the inspiration has passed over and you can enjoy a restaurant dedicated to sea food lovers! Come join the crew at Bubba Gump shrimp factory, where the food is good and the entertainment is well... just like Forest Gump would have wanted it!
---
Clubs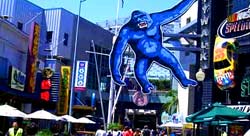 Jimmy Buffett's Margaritaville: One of City Walk's prime attractions this popular place serves you a great and wide variety of drinks that makes your visit a delight! Broken down into three categories there are three bars you can choose from, each holding its own unique set exotic and traditional drinks. These three bars are the; 12 Volt Bar, The Volcano Bar and the Land shark Bar, each special in their own way. Each bar is specifically themed after one of Jimmy Buffets hit songs and holds memorabilia from some of his greatest shows.
Bob Marley: A Tribute to Freedom: Bob Marley music for everyone, at least in this fun filled environment! Here you can enjoy great music at this culturally moving celebration that extends into the heart of freedom. Bob Marley was known as the King of Reggae, and now you can join in the fun and entertainment that is offered at this restaurant! Bob Marley was known to have to brought inspiration and heart moving music you can now experience this fantastic and moving musical experience in a replica of Bob Marley's home town!
Pat O' Brien's: When Mardi Gra rolls around you always have those fleeting thoughts wishing that it would never end. Well now you can experience that fun and excitement all year round, with Pat O' Brien's you can enjoy the fun and entertainment of Mardi Gra in a whole new way! This New Orleans look alike plays heart pounding music and amazing light shows to bring to life the street side party of a lifetime!
City Jazz: Remember the "real" jazz? Well now you can experience it once again in this fun filled jazz environment. Dedicated to keeping the good ole times well... good this club has plus pounding music and incredible lighting shows. Enjoy gourmet food and a wide variety of vintage wines in this fun and entertaining restaurant. Enjoy a blast of the past with this great and subtle club filled with real and original Jazz music that you cannot ignore.
The Groove: That's right, the name says it all. Get ready to get you're groove on and get down with the music. Enjoy this wild, unique and futuristic dance club that features a wide variety of base filled, heart pumping, pulse pounding music! One of this clubs greatest events is it's teen nights, allowing the young ones to get out of the house and go clubbing, with a controlled dance floor and clean music this clubs teen night is a fun way to knock of some steak! During normal nights you can enjoy secluded lounges and a wide selection of drinks.