Pirates Dinner Show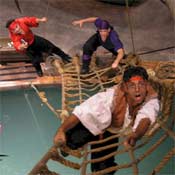 The Pirates dinner show is a fun filled adventure for the entire family. Unlike any other dinner show this one takes place on water, an amazing and unique feet you wont find anywhere else. Inside a 300,000 gallon pool located at the center of the room you can find a 46 foot long galleon. With 40 foot masts and an indoor lagoon, this massive set is all under a sparkling night sky. This show is like none other, you cant find anything like this in the world!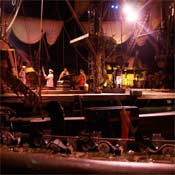 This fun and exhilarating show is full of plot twists and entertaining characters. With amazing stunts, professional actors and death defying moments you cant but help to hold your breath at moments! Surrounding the ship on six sides is where you will sit, and watch the story unfold before your eyes. Cheer on your character as they all embark upon this journey that leads to a devious plot and a romantic story.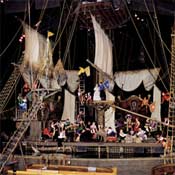 Observe as Captain Sebastian the Black reveals his menacing plot to overthrow the entire crew and claim the ship as his own. Even join in the action as 150 guests get to participate in the middle of the action in this fun filled family adventure. With rowboat races and long winded pirate squabbles this fantastic and mythical world of the pirate life becomes as real as ever on this life sized ship. You wont be able to stay off the edge of your seat!
Enjoy a Broadway Quality show with hair raising stunts, thrills and romantic drama. This show is like none other, with a massive pool a floating boat and constant, non-stop action you will be in the midst of an amazing story. With great food and such an entertaining show, a unique environment you can enjoy this amazing show for an affordable price!