Islands of Adventure


Islands of Adventure is one of Central Florida's most popular theme parks. Filled with wild rides and great themes the park thrives on over the top incredible rides that offer you fun filled adventure. As the name suggests the theme park is made up of islands, or a better served name is zones, these zones are; Marvel Super Hero Island, Toon Lagoon, Jurassic Park, The Lost Continent, Seuss Landing and The Wizarding World of Harry Potter.
Marvel Super Hero Island: Inspired by the Marvel Comics this area of the theme park is home to a wide selection of super heroes. From the famous comic books and recent movies come a wide variety of fun filled adventures with your favorite characters. Hop on the Incredible Hulk Roller-Coaster and sky rocket through the air at incredible speeds barley brushing the water. Or help Spider-Man stop his arch enemies from taking over the city in a fantastic simulator full of special effects and a heart pounding chase! Experience the action of Dr. Dooms Freefall, where you are raised high into the air and simply dropped coming to slow stop at the bottom! Whatever Marvel character you are a fan of your sure to find him at Islands of Adventures Marvel Super Hero Island.
Toon Lagoon: Directed Primarily for younger children but still a load of fun for the adults this islands rides have a wide variety of themes and some great water rides! When the day gets hot its nice to be able to cool off and you can do just that when going down Popeye and Bluto's Bilge-Rat Barges. These raging rapids can only be traversed by you and your friends in a large circular raft. Or go down the Dudley Do-Right's Ripsaw Falls and burst out of cave into a a large drop, splashing into the water below. Whichever it is Toon Lagoon can help you cool off during the hot Florida days, get wet in this fun filled zone!
Jurassic Park: Welcome to the land of the lost, dinosaurs have become extinct but they have always lived on in our dreams, well now Islands of Adventure wants to bring those dreams to life. Take a ride down the river into uncharted territory, it all seems peaceful until raptors and a tyrannosaurus-rex appear and you have to make a daring escape down a waterfall. Or soar high above the large playground on gliders as as children play in the caverns and obstacles below.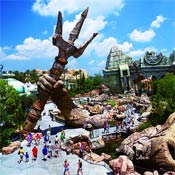 The Lost Continent: Carrying ancient myths and long lost tales the theme of the Lost Continent is a mystical setting. Here you can find two of the most popular attractions at Islands of Adventure, the Dueling Dragons. These two floorless coasters ride side by side in a constant duel, one named ice the other fire these roller-coasters are the spot light of the theme park. Among the great roller-coasters you can find entertaining shows of lost worlds and mystical lands. Inside this area you can find a small roller-coaster that is great for little children wanting to join in the action!
Seuss Landing: Everyone loves Dr. Seuss, well now those stories have become reality and you can step into the land of that cat with a strange hat. Find funny creatures and strange characters in this whacky land of rhymes and riddles. While this land is directed for the younger children in the family it still holds great fun for all ages. With indoor rides that tell of the strange and comical world of the Cat in the Hat this is a great a way to escape the Central Florida heat!
The Wizarding World of Harry Potter: Islands of Adventure will soon be opening this area of the theme park. With the Harry Potter books being made into movies the theme has boomed around the world, and now Islands of Adventure is going to bring this magical world to life!