Arabian Nights Dinner Show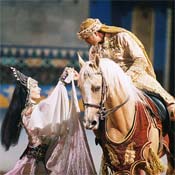 Arabian Nights, voted #1 dinner show in Central Florida, this is a magical tale of love and triumph that features 60 horses from around the world. The production features Walter Farley's Black Stallion and is performed nightly in an arena that seats 1200. The "Palace of Horses" has received millions of guests over ten years, and provides the backdrop for this dramatic story that delights guests with beautiful horses and continuous action!
Arabian Nights is a dinner show that brings a long lost fairy-tale to life on horseback in front of you! Beautiful horses from around the world are showcased in the world's largest indoor equestrian arena. The Palace of Horses is the only one of its kind on the map, and is the central stage for a dramatic and touching story of love. The guests of Arabian Nights are invited to celebrate the wedding of a Prince and Princess. The Prince is able to summon the magical power of The Black Stallion (Walter Farley's legendary star in print and movies). The Black Stallion's power must be used when the wedding is threatened by an uninvited guest. The wedding festivities are filled with many adventures and surprises - all portrayed with horses.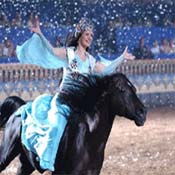 The guests of the Sultan include: Gypsies with powerful draft horses, Arabian horses with mounted Bedouins, a unicorn, a frightening villain horse with glowing eyes, and a painted Native American reining horse. The majestic display of breathtaking horses and colorful costumes combine to create a celebration of the relationship between horses and riders that has marked human history since long ago.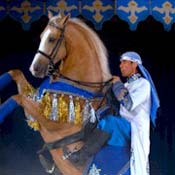 Arabian Nights is a production that allows guests to see a wide variety of equine entertainment - from Dancing Horses of the Desert to a Square Dance on horseback! All these traditional and unique choreographed scenes open up before you in a blazing display of amazing precision and timed stunts!
The show captures your attention from the moment The Black Stallion enters the palace to the climactic conclusion of the tale. The "Palace of Horses" gives visitors an unforgettable gift - the gift of the beauty of horses integrated with the latest technology in special effects, sound, and lighting. Voted #1 dinner show, Arabian Nights has created its own niche, a unique venue that is incomparable to any attraction in the Orlando area. Some past awards include: 1995 Odyssey Award, 2001 Best Romantic Restaurant, 1999 Golden Palm Award, 1999 Florida Living Magazine, Best Dinner Show, and more! With so many rewards and great reviews this fun and affordable show is waiting for you!