Medieval Times Dinner Show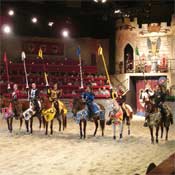 King Alphonso has invited you to join him at his tournament. He has also enlisted six of his most noble knights to compete in a competition of games, jousting, and hand to hand combat. Out of these six knights only one can be victorious and become the kings personal champion. Of course, there is always an evil twists in this kingdom, and the kings son has run an errand to make peace between a neighboring country, unfortunately he has gone missing and hasn't returned.
While you are watching the tournament you will enjoy a four course meal which you will eat in true medieval fashion, with your hands. You will be served a full meal, with soup, a full chicken, bread and the kingdoms beast and sweetest dessert. This feast cannot be served with silverware, so be prepared to dig in with your hands, after the show you will be provided with wet wipes to clean up with.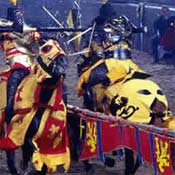 The seating is color coded so make sure to cheer for your particular knight to win by getting your banners and color coded gear at the store before going into the stadium. After each event your night will be given roses, to whom he will throw to crowd participants. Cheer them on as they participate in some wild stunts and professionally executed routines.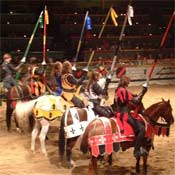 Remember to arrive early for the show and visit Medieval Life Village. See how the commoners lived and worked in 12 cottages next to the Castle. You can even put some one in the torture chamber! The village is a great way to see how life was in the medieval era before you enter the Castle to have dinner with the King and Queen. Here you can find an amazing set of crafted items, made in the same way they were in the medieval days. With men and women to explain the purpose of each individual building you can learn and enjoy every moment of your exploration!
Medieval Times is a very unique experience that the entire family will enjoy. From the young in age to the young at heart. Enjoy a story with a truly devious plot, watch as you're knight fights for his honor and ultimately, they will save the kingdom!