Sleuths Mystery Dinner Show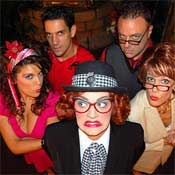 Sleuths Mystery Dinner Show is one of Central Florida's most popular dinner shows. Because of it's very unique and interesting theme this is one of the most talked about shows! With great food and an amazing show the Sleuths Mystery Dinner Show draws you in as the detective, but there is never a way to know exactly who committed the murder, stole the deed or made of with the loot. This comical, witty and hilarious show is closely mixed with the dark plot that accompanies every show.
One of the draws to the Sleuths Mystery Dinner Show is the ever changing shows. Sleuths has over ten separate and completely different shows, each with their own unique theme and plot. This means that each time you visit there will be a new and entertaining story for you to follow. Each visit is like enjoying another dinner show, with the same great food and constantly changing entertainment, you can see why this is a popular Central Florida Dinner Show! Here are a few of the shows:
Kim & Scott Tie the Knot

Everyone loves a wedding, but when the big day arrives some bizarre questions arise and both the Bride and the Groom are placed on a pedestal! Did the Bride murder her first husband, and now is looking for a second victim? Has the Groom been making illegal transactions to come in the possession of some very rare gems? This fun filled Italian Wedding is about to go bouncing of the walls in this comedy filled mystery!

G.K.'s 80th Birthday

This 80year old millionaire is cut short on his eightieth and final birthday. After revealing to friends and family that he was going to change his will he is found dead in the most peculiar of ways. With his family nurse, friends and family, co-workers and more at the party the plot just keeps going deeper. With so many angles to cover interrogating all his party members is going to be a strange, comical and long process, can you catch the killer?

The Premiere

After sinking millions of dollars into this movie to ensure Henry Beaumont's daughter becomes a super star this movie has to be a hit. But of course when there is fame and fortune on the line everyone wants a piece of the action. When someone wants to get on top they go to drastic measures, which actor or director committed this dreadful crime to sky rocket them into popularity?
Sleuths Mystery Dinner Show is an ever changing experience. With comedy, mystery, and professional acting you will never know who exactly is the you're culprit. So come enjoy this fun and affordable show, where the mystery trails always fresh and the food is even better!