Magic Kingdom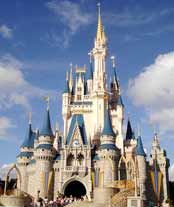 The original "Walt Disney World," this theme park holds all the great themes of the original Disney Characters. The signature of this theme park is Cinderella's massive castle, this white and blue structure has been a signature of Disney since the theme parks grand opening. Standing in the center of everything Cinderella's Castle can bee seen from around the park, during select occasions the castle has large firework shows and in the day time there are musical and stage events just outside the massive structure. Housing a wide selection of rides ranging from every known Disney character this theme park should not be missed, it is a must for any first time Disney Visitor.
Magic Kingdom is divided into five themed sections, each housing their own unique set of rides and attractions. Each individual zone carries it's own story and set of characters, these area are; Main Street, U.S.A., Adventureland, Frontierland, Tomorrowland and Mickey's Toontown Fair.
Main Street, U.S.A.

The very entrance to the theme park this large street hosts a variety of attractions. During the day it is home to many Disney Characters, this is a great time for souvenir photographs as the characters like to interact with kids and adults alike. The entire street is lined with an abundance of souvenir shops, selling resources to make your day enjoyable and fun Disney products. At night, during select holidays and occasions, this area becomes home to Magic Kingdom's many parades, with lights, fireworks and colorful displays this is always worth staying the extra hour to watch.

Adventureland

Everyone wants to adventure into unexplored lands, and now Disney has offered you just that! This paradise lost is nestled into lush forest with fun and entertainment around ever corner. Here you can find the Swiss Family Robinsons massive tree house, take a walk through it's branches and see where the family lived in the movie! Journey onto the high seas with Pirates of the Caribbean, as you venture into the strange and exiting world of pirates and the dreaded cursed ship! One of Disney's more relaxing rides is the Jungle Cruise, where you embark on a journey through a lost forest by boat, coming across exotic animals and long forgotten ruins!

Frontierland

Well most everyone knows what the Frontier was, and so you are about to embark on a journey to the West, or the Wild Wild West as it used to be. Filled with Cowboys and Indians you are exploring the red rocks of this rural mid-western town! Journey into Big Thunder Mountain in this speeding roller-coaster, venture through and under the red rock. Join in the Country Bear Jamboree as they play folk music live on stage in a western inn.






Tomorrowland

Welcome to the future, well... close enough. Disney has built an entire zone that appears to have come back from the future, equipped with flying transports and metallic structures! This area can be seen from most of the park, the center building has large floating planets on top, and many tracks from the Tomorrowland Transit Authority or TTA leaving its central floor. Here at Tomorrowland you can fight off space invaders with Buzz Lightyear in an interactive adventure. Or follow Stitch the comical space alien from Hawaii that brought life to the big screen. Or zip through space in Space Mountain, an indoor roller-coaster in the dark!

Mickey's Toontown Fair

This fully interactive town is full of photo opportunities and fun site-seeing entertainment. Here you can find Disney characters interacting with children, taken photos and playing out their every day lives. Among the fun with characters this area offers many play zones, from playgrounds to water fountains your children can play for hours on these entertaining structures!
Magic Kingdom is the perfect theme park for all ages. With five separate and unique areas to explore the entertainment is unlimited. This is often the first choice for Disney World visitors, and you can see why!